Wattagio is a macOS app that serves as a powerful battery assistant for your MacBook. It gives you information about current battery health, including battery life, battery consumption, and battery cycle count. It works with MacBook battery, MacBook Pro battery, and MacBook Air battery.
Extending the battery life of your MacBook is essential. High temperatures, excessive battery usage, regular system overload can cause quick battery degradation. It is not uncommon to see people making complaints like "MacBook battery not charging" or "MacBook battery drains quickly." These problems arise when you fail to do an MacBook battery diagnostic. Wattagio was created in response to MacBook users who regularly ask "how to check MacBook battery health". Wattagio helps you to keep an eye on battery health by providing essential information and amazing features.
Powerful features
Energy / Battery Usage
The first step towards optimizing the performance of your MacBook battery is understanding how your apps consume energy. Wattagio gives you accurate statistics about used battery power, including detailed information about how each app consumes energy. You can filter data for the past 24 hours, 2 hours, or since the last charge. Understanding these statistics is essential to your MacBook battery health.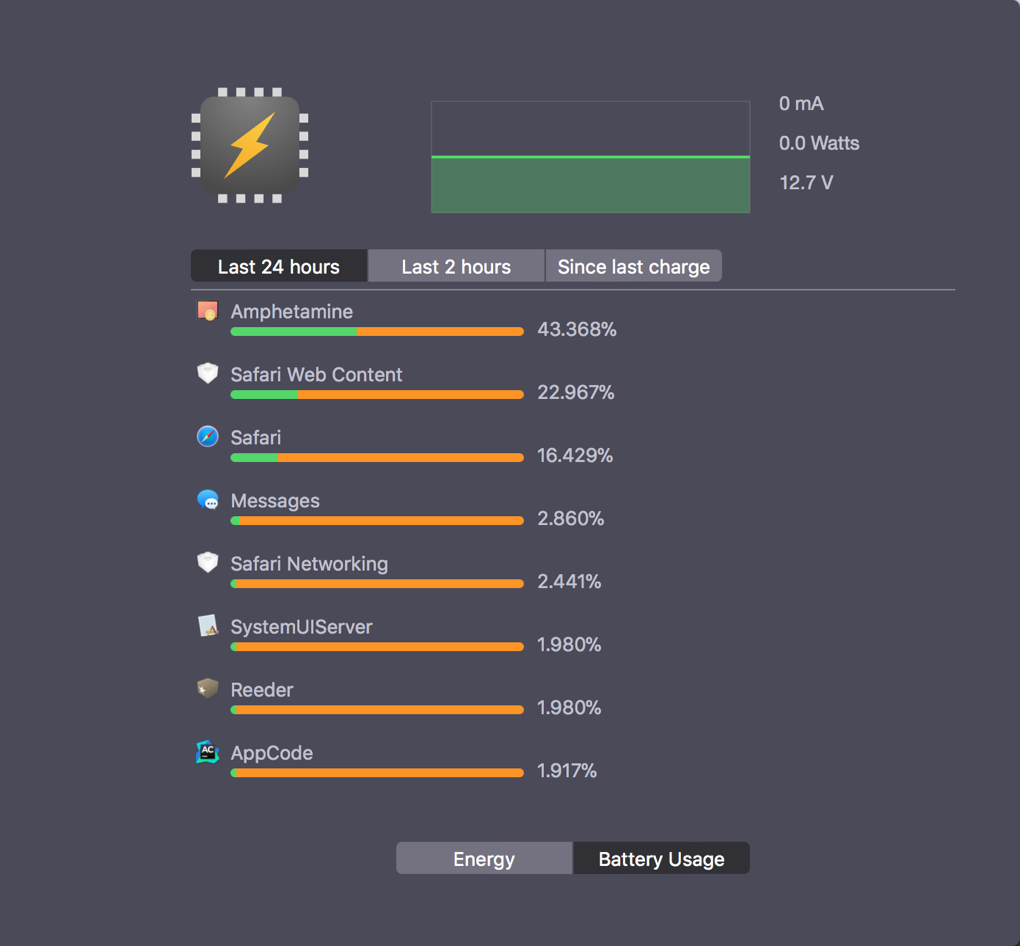 Wattagio assistant

Wattagio Assistant shows you the apps that are hungry for energy on your MacBook. The assistant gives you are a consolidated view of the top energy consuming apps. By showing you these apps in one view, it allows you to take necessary actions to save MacBook's battery charge.
Quit apps
One way to improve your MacBook battery life (or MacBook air battery life) is regularly shutting down unused apps that consume battery and CPU. Wattagio helps you identify unused apps consuming energy and automatically shuts them down to extend battery life.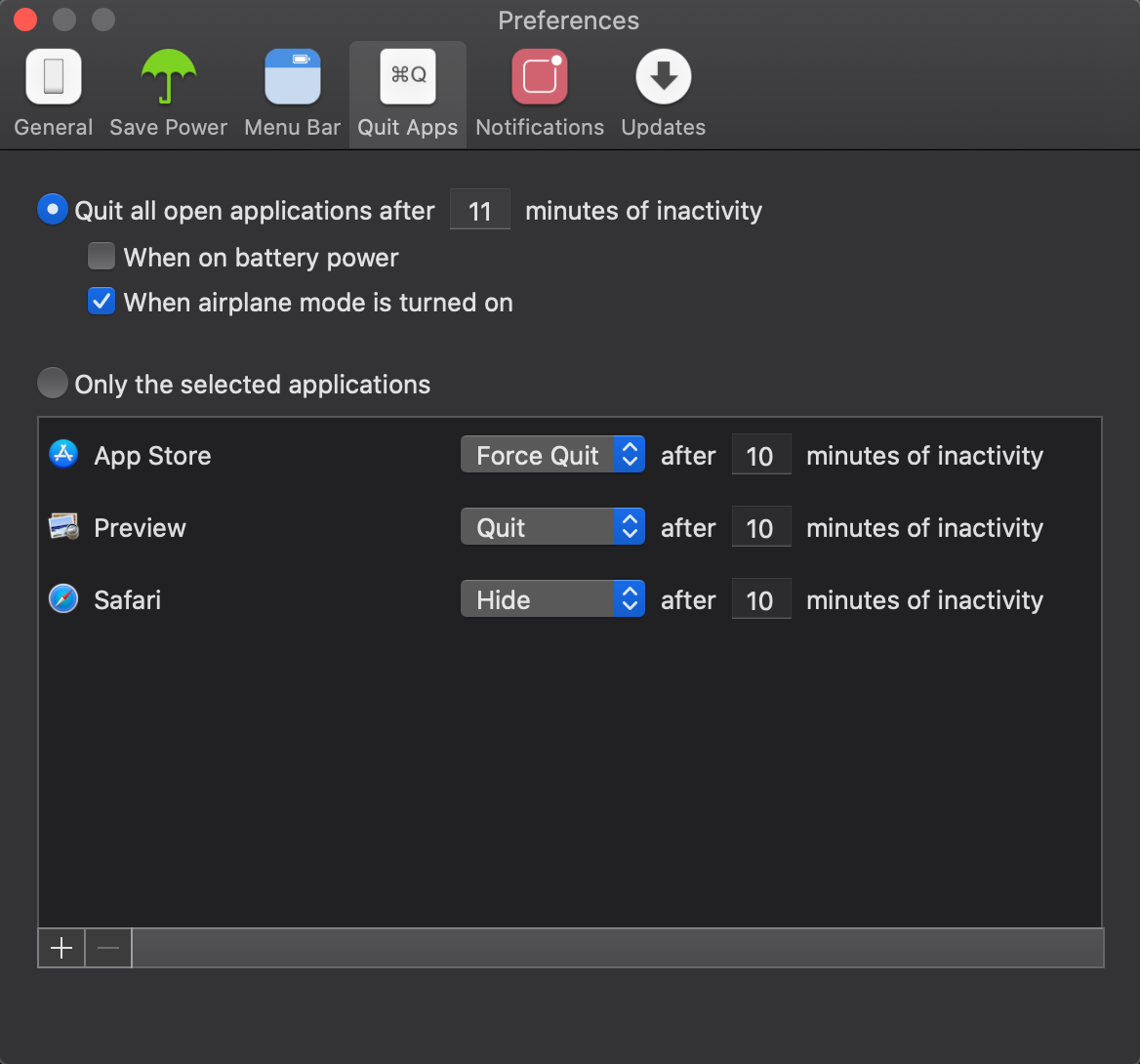 Notifications
The notifications system of Wattagio is so comprehensive. You can set up the mac software to notify you when the battery temperature is more than or less than a particular limit. You can use this feature to know when your battery's temperature is too cold or too hot. Immediately it exceeds or falls below the benchmark; you will be notified so you can take steps to prevent battery degradation and improve your MacBook battery life. You can also choose to get notifications when battery capacity is less than a particular benchmark. Alternatively, you can set it up to notify you every time battery drops by a specific percentage, for example, after every 25% drop in battery capacity. It can also notify you of the time remaining to full charge, time to full discharge, or when charge level reaches a certain percentage.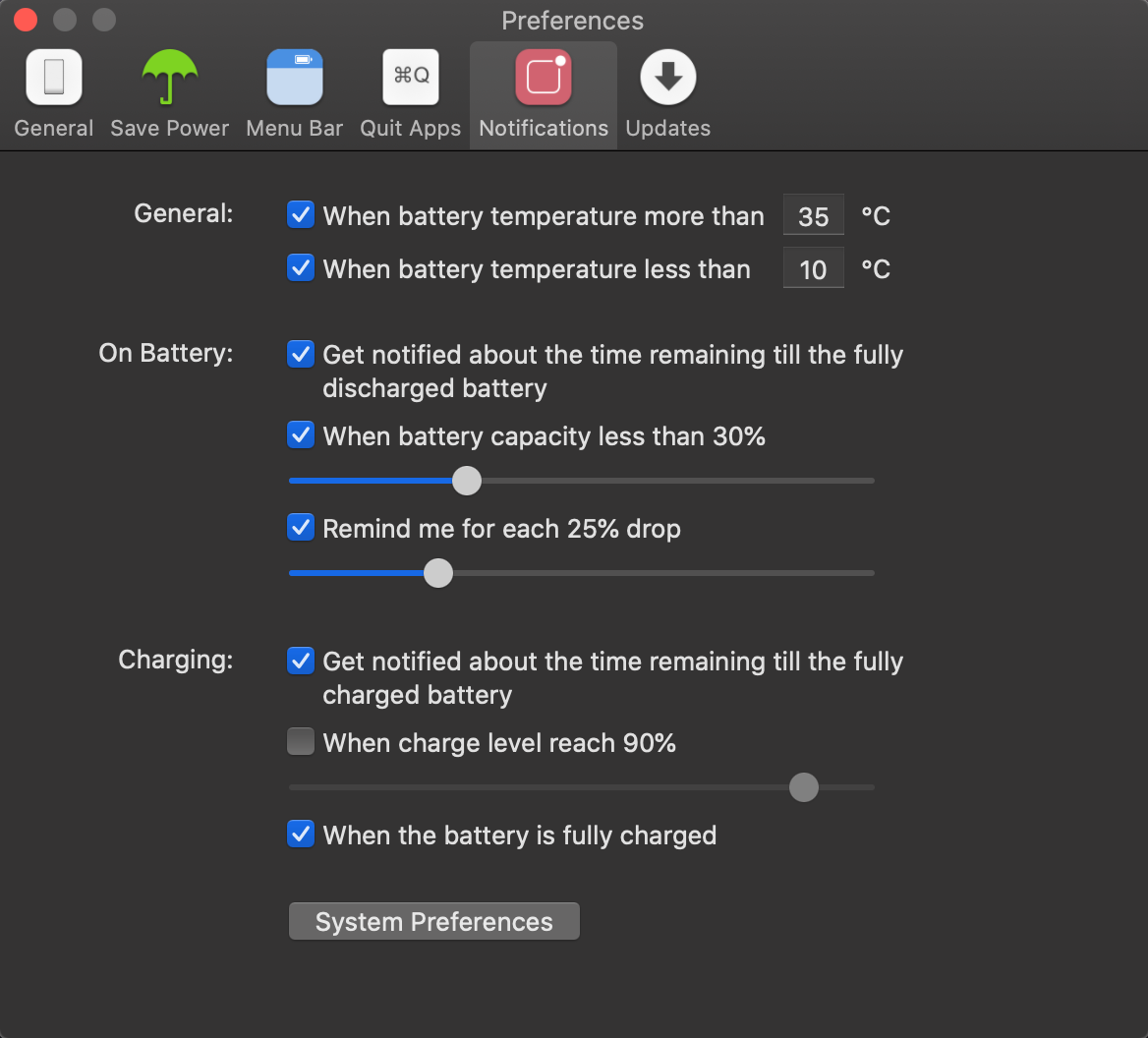 Customizable battery status as you wish
Wattagio allows each user the opportunity to customize the battery info view from the Wattagio menu bar, so you see what you want about battery status. You can choose to see the MacBook battery voltage, discharge rate, battery temperature, or any other information. This customization tool enables you to see only what is most important to you.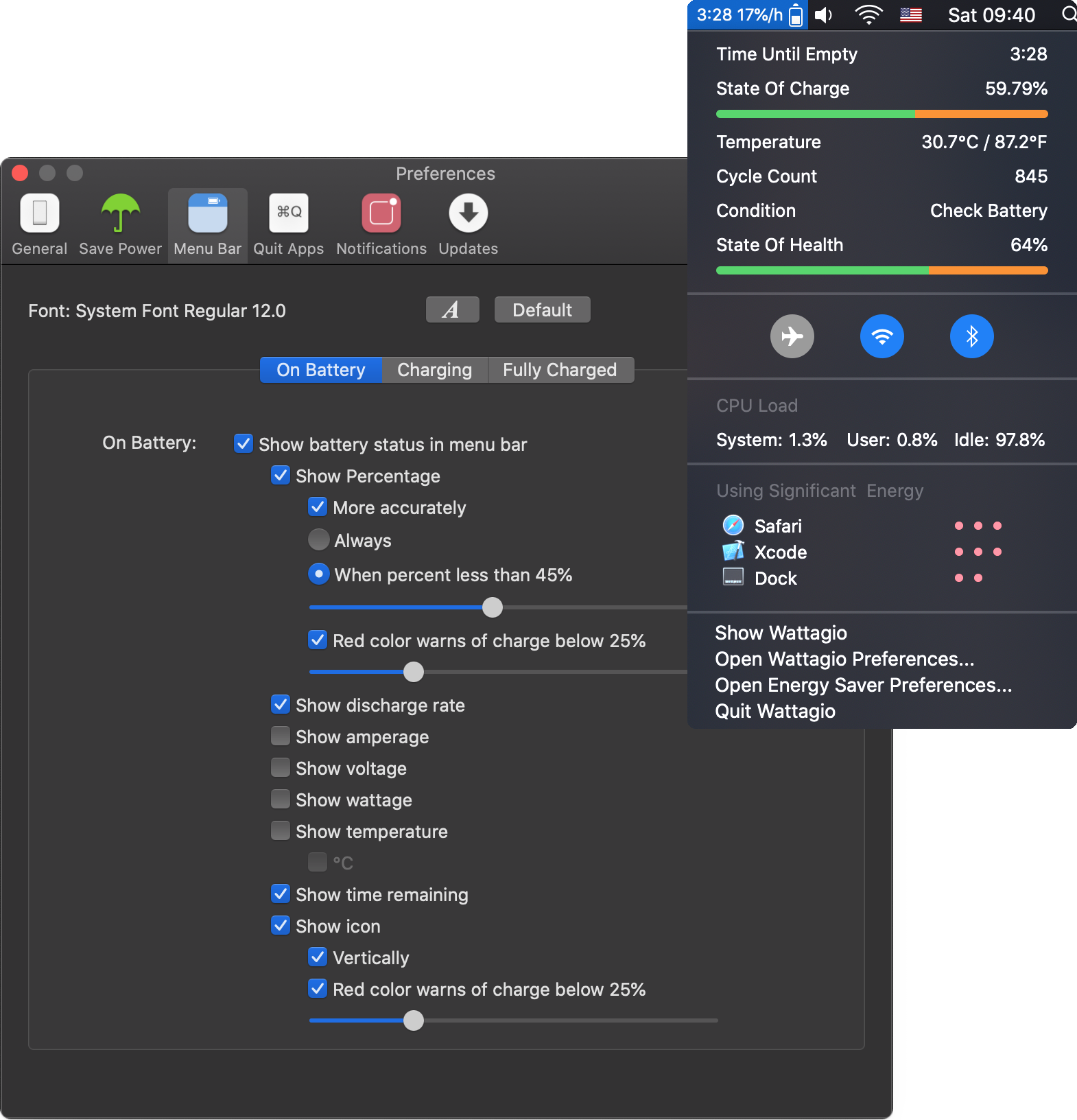 History
Battery's Life Story
This feature allows you to view the battery's autonomic working time, fully charge battery time, and additional charts that show power history, usage history, capacity history, and health history of the battery. You can customize for daily, weekly, monthly, and yearly views.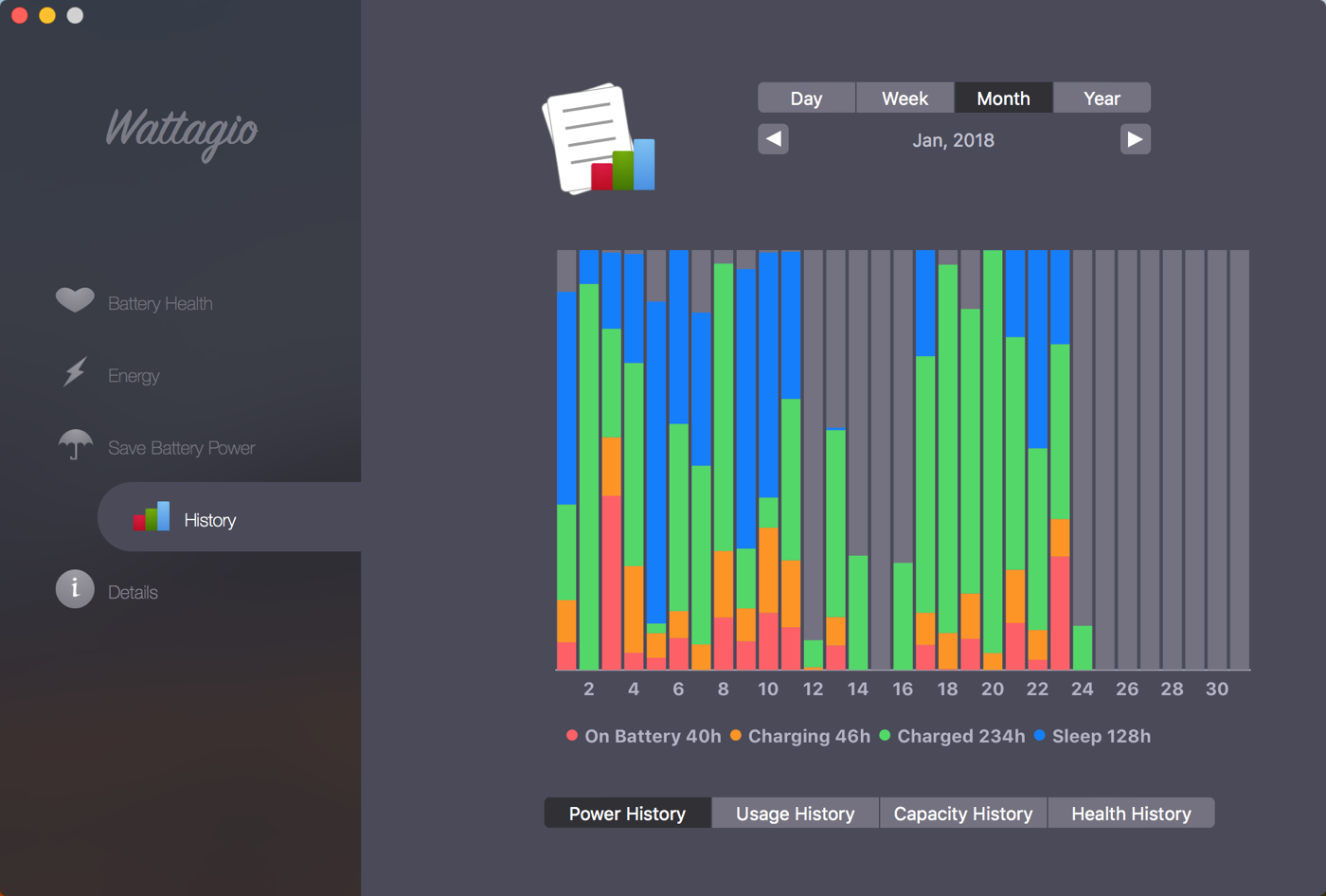 Frequently Asked Questions
How to increase battery life cycle?

•Try to avoid too high and too low temperature. The most comfortable   temperature for work is 50° to 95°F (10° to 35°C) and -4° to 113°F (-20°   to 45°C) in saving mode; use Wattagio to protect your battery from   overheating.
‍
•If you are going to keep your device without power for a long time,  please, follow next 2 steps:
     1.Temperature must be under 90°F (20°C).
     2.Battery level must be not more than 50%.
‍
‍Batteries – Maximizing Performance – Apple
How can I hide macOS X battery icon?

Find "System preferences", "Energy Saver", remove the mark near "Show battery status in menu bar".
What if battery reaches maximum charging life cycles?
If a maximum life cycle is reached, we recommend you to change the battery. You can use your old battery after you reach this limit, but you'll notice decreasing working time in autonomic mode. Approximate life cycle you can check in Wattagio.
How can I disable this application on startup?
Find application's settings and remove the mark near "Launch Wattagio on startup".
How can I completely remove Wattagio?
To completely remove an application from your MacBook, you need move it to the trash.
Supported Languages:
English
Français
한국어

Polski
Русский

Українська